Is there an overall scene you had in mind for this album?
Yeah, definitely. Looking back on these tracks now, they were heavily inspired by a trip I took through Europe back in December 2018. I was an Eastern European history major in college, and spent so much time reading a daydreaming about traveling through Europe, but never had the chance. A lot of the imagery and feelings in this album came from snapshots of experiences I had on my trip.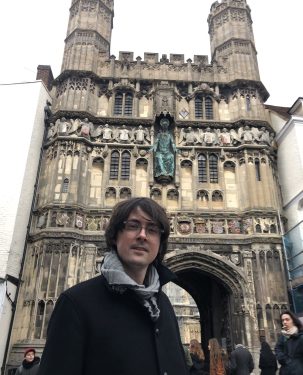 Any special meaning behind any of the track titles?
The titles really came from small impressions and snapshots I had during the trip. Walks through the Jewish Old Town, reading Tolstoy's Sevastopol Sketches on a train through old forests and industrial heartlands. I wanted these tracks and the titles to impart a hazy impression of these places.
What was the timeline for this album like, and where do the bonus tracks fit in? Was there any overlap with your older project—Rest You Sleeping Giant?
Fall of 2018 was a really productive period for me musically. I had just moved to Chicago after finishing grad school where I didn't know anyone, and my girlfriend (now fiancé) had just left to study abroad for a semester in the UK. I spent a lot of that time experimenting with tape loops and acoustic guitar.
I wasn't really happy with how my prior RYSG release Celestial Orchestra had turned out, so I was wanting to move away from that project and start something different. All of the tracks, including the bonus ones, were recorded during this period between August and December 2018.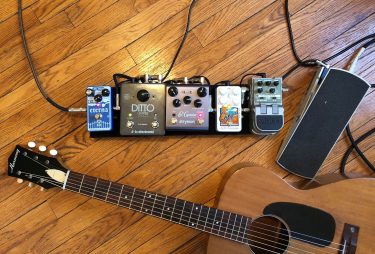 Was there any thing interesting about the writing process? anything new you were experimenting with?
These tracks were much more stripped back compared to my previous work, and focused primarily on acoustic guitar and tape loops. I was really wanting to release music that emphasized the guitar rather than just have it as a layer or texture. I was really getting into traditional folk music and American Primitive guitar at this time, so I was really enamored with the idea of bridging my love of folk fingerpicked guitar with my ambient-tendencies.
It was rediscovering a love for tape machines that really sparked this creative endeavor that became Black Brunswicker. Tape can be really unpredictable – for instance, in Bohemian Paradise, there's a few moments where the track suddenly stops. That wasn't intentional, it was just a blank spot on the tape. Originally, I struggled with tape's unpredictability, but have come to embrace it for what it is. I also was experimenting with recording setups, running an acoustic guitar into an electric amp into an old Tascam unit. I always struggled with recording music, so a lot this time was spent finding a setup that worked for me.
Several of these tracks were put together using multiple tape loops. Serf Song, for example, was made using multiple tape loops that I was running from Tascam and Walkmans. I must have re-used the tape loop with the melody from Serf Song in another take, which resulted in the track that became Serf's Melody.
What about the album art?
The art itself came from a postcard I found. I've always had an interest in collecting old postcards, especially landscape and old world scenes. When I found the postcard that I would use as album art, it just kind of clicked with me. I thought "yeah, this is what I'm imagining this music to look like"
Do you tend to improvise, compose, some mixture of both?
That's a tough one. I'd say I'm more composition side now with the tracks that emphasize fingerpicked guitar, but I've always been big on improvisation. Looping has always been a big part of my writing process. It allows me to do a sort of structured improvisation, where I can experiment and find something that sticks with me and build it out. Austro-Hungarian Blues is a good example of this approach, where I landed on a progression that I really liked and added on more layers. Guitar is very much at the core of this track, but I layered in multiple guitar tracks, tape fuzz, and field recordings.
Do you feel influenced by any artists in particular? What music have you been enjoying lately?
Lately, I've been listening heavily to William Tyler, Jack Rose, and Rick Deitrick (as well as a lot of other artists on Tompkins Square artists). I find Rick Deitrick's old home recordings as very inspirational as of late. It blows my mind that he was able to make such beautiful mellow pieces playing open strings in Standard tuning.
I haven't really kept up recently with what's been going on in the ambient scene. I've mostly been listening to acoustic music and stoner/doom bands. Moving to Manchester has also reignited my love of Joy Division and New Order as well.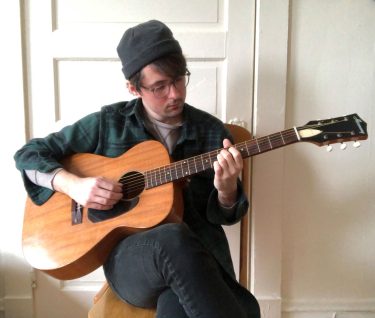 What got you into making music?
That's tough to say. Over the past decade, I've done numerous home recordings, from black metal to noisy bowed banjo. What got me started on using acoustic guitar as my primary instrument was a video Hakobune did a number of years ago – Live at Nacoh Amulet. I loved the sound and imagery in the video, and thought it was really cool how he could make such beautiful ambient music using just an acoustic guitar.
As far as training, I took some lessons from Charles Kim at the Chicago Old Town School of Folk Music to improve my fingerpicking technique. He really opened my eyes to how you could harness open tunings and fingerpicking patterns for ambient music. He's who got me hooked on DADEAd tuning.