Is there an overall scene or feeling you had in mind for this album?
I started writing 'idyll' with one intention—to create a peaceful, gentle place. I pictured California in its fleeting spring with green rolling hills, a flowing river, wildflowers peeking out of the ground, and birds chirping in the air. My hope was to make the album feel like an immersion into that intention and visual.
Is there any special meaning behind the track titles?
I always have a meaning with song names, as I feel it infuses them with a sense of belonging. I have had a huge part in naming all songs with awakened souls and collaborations I've done.
'idyll' was the first song I started on the album and became the anchor for my album concept. I love the modernist painter Agnes Pelton's piece, 'Idyll' and this also influenced the naming of the song, which soon became clear would be the title of the album as well.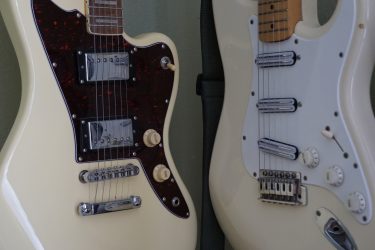 For 'cloud collecting', I wanted to make a song that captured what lying on a blanket and watching passing clouds feels like. I've loved doing that since I was a child and so I tried to translate the child-like wonder it gives me into song form, adding pitched-up bird sounds to make it a bit more whimsical.
'shortest day' and 'shortest day (reprise)' were written on the winter solstice and became part of my yearly self-reflection ritual. With these two songs I tried to capture nostalgia, processing memories and the beauty of nature and night walks that became a habit for James and I during the pandemic.
'first rain' was inspired by the first rain we had in California during the fall season. It is quite dry where we live so rain holds a mystical quality, especially when we haven't had it for months. I quickly set up my Zoom H1n and captured rain from our bedroom window and then started working on this song the following day.
The song 'roses all alone' came from a line of a poem that I wrote while taking solo time in the morning to be in nature, catching myself enjoying the scent of flowers all alone. I wanted to infuse what taking solo time amidst a busy family life feels like for me—rejuvenating, centering, and a way to keep in touch with myself.
'on this fresh morning' contains a field recording of birds from my bedroom window at dawn. I was the only one in the house awake at the time, and I laid in bed listening to the birds in a mediative state, then wrote this song later that day. I wanted there to be one song without my voice on the album but thought it would be playful to add my voice using the Chase Bliss Mood to make it sound like electronic birds for about thirty seconds towards the end of the song.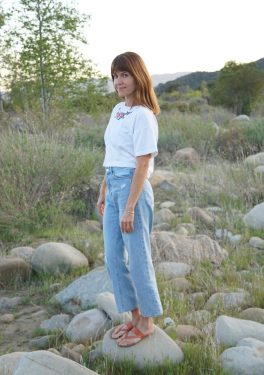 'pink moment' was named after what the sunsets are often called in Ojai, California (close to where I live), when a pink hue takes over the sky and mountains that surround the valley. The field recordings from the song came from a favorite trail in Ojai during a particularly pink sunset.
'you'll find me' is the only older song that I reworked to use on the album. I initially wrote it for James back in 2016, but it was more of an indie-folk song to start with and had more lyrics. The original lyrics were 'make-believe if you want, but I'm not going anywhere, past the greenest hills, past your last deep sigh, you'll find me, believing in you, believing in us.' I had been wanting to record the song in my own way for years, and felt like the 'greenest hills' phrase was a sign that I needed to add it to 'idyll'. The field recordings for that song come from San Juan Bautista, the town in Northern California where we were married, and includes bird songs from a courtyard and the sound of passing cars on a highway in the distance.
'pink moment' is probably my favorite track… do I hear some lyrics hidden in there?
Yes. The song was initially called 'what breaks my heart' and if you listen closely, you can hear me singing that phrase at parts. I had just read about the concept of what breaks your heart as a window into what really matters to you. That when our heart breaks, it inevitably cracks open in a way that can create positive change. I was reflecting on this idea the day I started the song but it naturally evolved to 'pink moment.'
What was the timeline for this album like?
I started writing 'idyll' in late October and initially thought I was finished with it in early December. It was a collection of five songs at that time, and I thought I just wanted to do an EP. After sending it to Andrew, I gave it some space and realized that I wanted to revise some of the songs. Giving myself a little distance not only gave me the opportunity to reevaluate and revise the five songs, but also compose four more to turn the EP into an full album. Many of the original versions were cloaked in reverb, and I wanted to unveil them to see what was underneath (especially on 'roses all alone' and 'shortest day'). I completed the album by mid-January.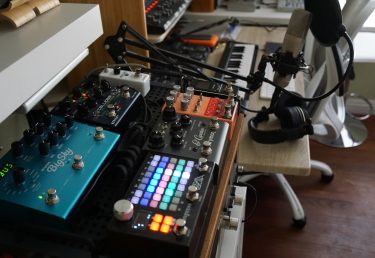 Was there any thing interesting about the writing process? Anything new you were experimenting with?
There were a lot of surprises for me during the writing process, since this was the first time I had ever written, produced and mixed an album entirely on my own. The revision process of the album was like crawling out of my cocoon and accepting myself as a self-made artist. I was experimenting with vocal textures using the Chase Bliss Mood, which I tucked into the mix ever so slightly in an attempt to give the songs extra depth, while maintaining my gentle intention. I dove deeper into my pedalboard and voice experiments to make them feel as if they were a separate instrument.
Do you tend to improvise, compose, some mixture of both?
I tend to do a mixture of both but always have a few parts in songs that involve a flow state/improvised compositional technique. The beauty of sound on sound recording is that it forces you to be in the moment and a lot of the marine eyes and awakened souls sound is from that full immersion in the present.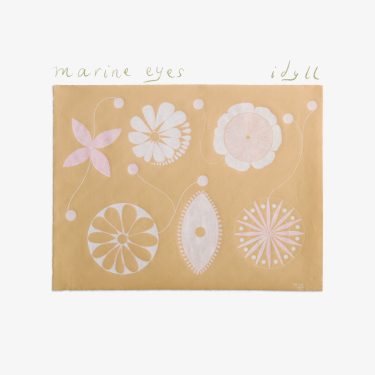 Tell us about the cover art & design
I am a huge fan of Nevia Pavletic's (@nevia.drawings) and always thought her art would make a lovely album cover, so I was thrilled when she agreed to be part of 'idyll'. Nevia is an abstract artist from Croatia (now based in Maryland) who primarily uses colored paper and colored pencils. She makes art as a way to be in touch with nature, and this felt like a perfect fit as it's a similar inspiration to how 'idyll' was born. I liked how my handwriting looked alongside of Nevia's art, so Andrew and I decided that it was the final touch for the inside and back of the CD design as well.
What got you into making music? Any specific training or encouragement from someone?
My parents are the foundation of my love of music. The living room of the home I was raised in has CDs and vinyl covering a whole wall (lots of Prog rock and Beatles). I watched my parents cuddle up on the couch with liner notes of new albums that came out, listening to and reading the lyrics. I started singing at a young age, writing my first song about the rain from my front porch at the age of 11. In college I would play at San Francisco cafés from time to time. I was constantly writing songs but never did anything with them besides sharing them with a few friends from iPhone or GarageBand recordings, until I met James.
James is hands down the best training and encouragement I have ever received. He taught and continues to teach me how to produce and mix and has helped me believe in myself and trust my musical intuition. Within the first weeks of meeting each other back in 2014, he told me that I should 'always be recording' and that immediately changed how I view writing music and expanded my sound with us writing six songs within the first six weeks of being together.
What music have you been enjoying lately?
I am constantly seeking out new music and will frequently travel all over the map in the course of a day (ambient, indie, shoegaze, post-rock, dub, glitch, techno) depending on what I am doing. During the 'idyll' sessions I was listening to as many new ambient artists as I could, but always found myself coming back to From Overseas, Sea Oleena, Zoe Polanski, 36, Julianna Barwick, and Dawn Chorus and the Infallible Sea.