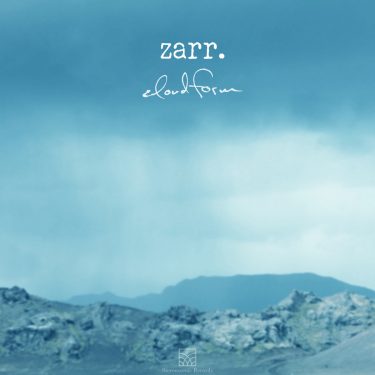 CDR in a 3-panel matte-finish digipak
You may pay more if you wish
cancel
Digital
download in wav, aac, mp3, etc via a Bandcamp code provided instantly
You may pay more if you wish
cancel
cloudform
zarr.
SCENE25

| | | |
| --- | --- | --- |
| 1 | Cloudform | 7:57 |
| 2 | Kairos | 11:00 |
| 3 | Kaizen | 8:21 |
| 4 | Yugen | 8:18 |
| 5 | Ukeire | 8:06 |
| 6 | Hiraeth | 11:09 |
---
This is my third full-length album, entitled 'cloudform'. This release is absolutely huge for me for a number of reasons which I will explain. A lengthy post ensues (so thank you for reading to the end if you do) as this is perhaps the release that I am most proud of so I feel it deserves full explanation.
To start: the concept of 'cloudform' is thus – much like how the clouds come and go revealing their true fate along the way, I feel that this sentiment is paralleled in life as we weather its storms, only discovering what will ultimately be as we go through the process of enduring its trials. It is this continual encounter with attempting to accept the uncertainties in life that is the principal theme of 'cloudform'.
The album signifies both self-reflection and a reflection of my interaction with life. Ambient music has been a big part of my life for many years now, and I wanted to delve even further into its creation with this release. Writing 'cloudform' has allowed me to experience a different way of creating music and (hopefully) constructing enveloping atmospheres.
For the first time since the inception of this project, my music is being released on a label – Stereoscenic Records. Founder and owner, Andrew Klimek, has been a key figure in this release and is not only releasing it on his label but has also skilfully and beautifully mastered the tracks. I am truly thankful for all his efforts to allow 'cloudform' to reach its full potential and his belief in my music. I am still in disbelief that it is actually being released via Stereoscenic Records; a huge moment for me.
For a long time, I have wanted to combine poetry with music. And for this release one of my close friends, Anjali Oza, has generously lent me her creative gift by writing a beautiful and fitting poem which aptly accompanies the sentiment of 'cloudform'. Included in the download of this album (along with the artwork) is a handwritten copy of the poem, scribed by Anjali herself in beautiful calligraphy. Here's what she says about it:
'…the most beautiful thing about this project lies in the way Kamal has captured the universal sentiment that life unfolds in ways we can never be sure of, and the understanding that acceptance is our only peace of mind. When I was asked to write a poem for 'cloudform', I felt I had to find a way to bring this vision to life, to make it relatable and real. This poem is nothing short of a celebration of life's uncertainties, and a chance to remember that humble persistence takes us far.'
The artwork for 'cloudform' was created by Justine Howlett. As with all good art, little explanation is required to outline its beauty. I am so pleased with what she has produced and, once again, I have been fortunate enough to work with an artist who has constructed artwork that is completely fitting.
Not only is this release a venture deep into ambient territory, it has also come from a very deep place within. Losing myself in music is the way I know to best process all of the events in life, especially those that are most significant. And this year has been fairly significant for me, in more ways than one. For about nine months prior to June of this year, my father's health had been rapidly declining and, following this prolonged period of suffering, he eventually passed away at home. During this period, I was continuing to write 'cloudform' and I feel that its sound portrays much of my state of mind at that time. One track in particular (Hiraeth) I feel especially connected to. This track was played at my father's funeral in June and will always hold a poignant significance for me. It is somewhat fitting that it is the last track on the album.
Every emotion, every loss and every challenge I have confronted in the past year or so has been poured into this album. I hope that it gives you a chance, for however long, to reflect on life and take stock of how many challenges you have overcome and how many more unknown trials you are likely to face with a buried courage you are maybe, as yet, unaware of.
—
Cloudform (by Anjali Oza):
Through what seems an eternity,
Many moments have passed,
Where words seemed in vain,
And brewing storms have been cast
Aside for another story,
A dwindling tale left to tell,
Slipping slowly through these fingers,
Like a thirst left to be quelled
And when sweet melancholy drips,
From the sorrow-ridden clouds,
You drown in an ocean of alternatives,
Immersed in a feeling so loud,
That it robs you of your silence,
And blinds you to the core,
And the only way out of this danger,
Is to surrender a little more
Until you notice the rains subside,
The sky painted in orange hues,
And the whistling of the wind,
Becomes an old, familiar tune,
That someone once sang to you,
On a day like today,
Where uncertainty hung in the air,
And your sorrows simply lay,
At rest with what was to come,
And made peace with another day,
Because to wage a war with the unknown,
Is a game we cannot play.
Music written, recorded & mixed by Kamal Manzar
Mastered by Andrew J Klimek (Stereoscenic Records)
Album art design by Justine Howlett and Andrew J Klimek