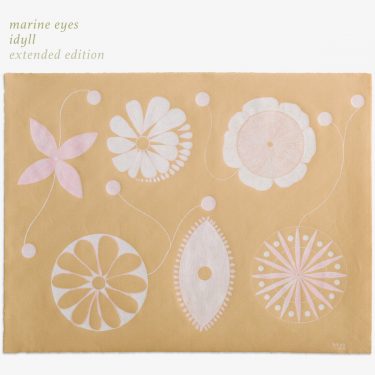 CD
glass-mastered CD in a matte-finish, luxury-grade digipak
You may pay more if you wish
cancel
Digital
download in wav, aac, mp3, etc via a Bandcamp code provided instantly
You may pay more if you wish
cancel
idyll (extended edition)
marine eyes
SCENE71

| | | |
| --- | --- | --- |
| 1 | idyll | 6:09 |
| 2 | cloud collecting | 4:46 |
| 3 | shortest day | 3:07 |
| 4 | first rain | 5:08 |
| 5 | roses all alone | 3:14 |
| 6 | on this fresh morning | 4:30 |
| 7 | pink moment | 4:22 |
| 8 | shortest day (reprise) | 4:03 |
| 9 | you'll find me | 3:45 |
| 10 | roses all alone (veiled) | 3:45 |
| 11 | make amends (b-side) | 3:58 |
| 12 | cloud collecting (poemme remix) | 5:59 |
| 13 | idyll (ludvig cimbrelius resting in clouds mix) | 6:04 |
| 14 | on this fresh morning (IKSRE remix) | 4:17 |
| 15 | pink moment (andrew j klimek remix) | 4:22 |
| 16 | roses all alone (james bernard remix) | 4:30 |
| 17 | you'll find me (inquiri remix) | 5:36 |
---
when andrew and i started the conversation about a reissue of the 'idyll' cd, we didn't plan on turning this into a full other album. however, it quickly became apparent that we were building something special with the additions so we kept going, and i am delighted we did.
each person i invited to do a remix has been a big part of my musical path, helping me believe in myself, encouraging me to share my art with the world, & inspiring me with their own art. deep gratitude to lacey, angela, phoebe, ludvig, james and andrew for pouring your hearts into this little project. <3 also, huge thanks to nevia pavletic for her stunning artwork!
the added alt version of 'roses all alone' is a little window into how my original sessions sounded before i stripped back some of the veil (which was especially noticeable on this track). and the b-side 'make amends' almost made it on the original album, and has been waiting for the right moment to be shared..2-years since idyll was originally released :)
thank you for listening, i hope you enjoy this collection of songs and it helps you find your own peaceful place.
warmly,
cynthia
music & production by cynthia bernard
artwork by nevia pavletic (www.neviapavletic.com)
mastered by andrew j klimek
1-9 originally released in 2021
10 is an early version of 'roses all alone'
11 is an outtake from the original sessions
12-17 are remixed & performed by
(12) angela klimek, (13) ludvig cimbrelius, (14), phoebe dubar,
(15) andrew j klimek, (16) james bernard, (17) lacey harris